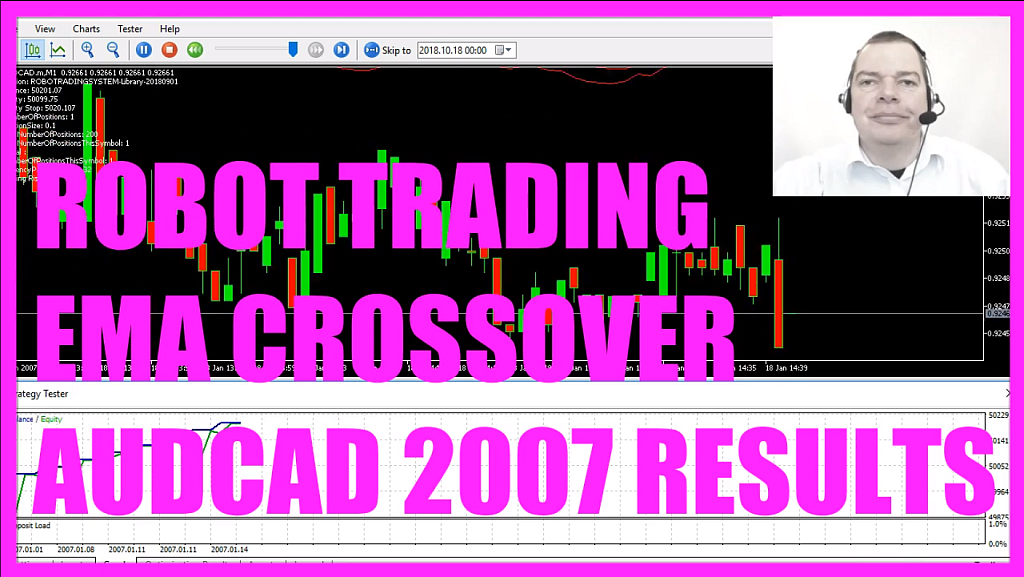 In this automated video we are trading the crossover entry with a risk setting of 7 for the year 2007.
The crossover entry is one of the most popular entry signals, because it is easy to understand.
In this case we have an exponential moving average that is calculated based on the last 20 candles and another one that is calculated based on the last 50 candles.
An exponential moving average is similar to a simple moving average, but the last few candles have a bigger importance for the calculation.
Whenever those two lines cross, that would be either a buy or a sell signal.
When the moving average for 20 candles is above the 50 candle exponential moving average, it is going up.
Otherwise, when the moving average for 20 candles is below the other one, it is going down.
We have a lot of entry signals in this case, but we will only trade whenever our risk setting allows another position to be opened.
For 2007 this entry is a good choice, because it produces good profits with a very acceptable draw down.
If you are interested in good results, maybe you want to watch the other performance videos on RobotTradingSystem.com – or wherever you get your trading performance videos.
Download "EMA CROSSOVER ROBOT TRADING SYSTEM - DEMO VERSION - WORKS WITH AUDCAD DEMO ACCOUNTS ONLY" EMACrossoverDemo.zip – Downloaded 117 times – 72 KB