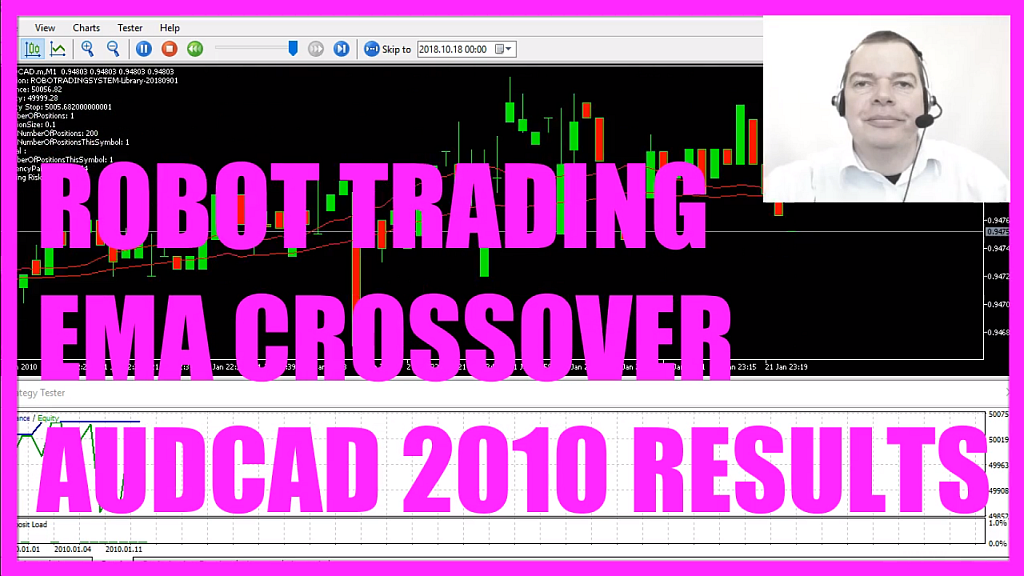 Let's trade the exponential crossover entry for the year 2010. We are trading the Australian against the Canadian dollar in this automated video.
The risk setting is 4.5 in this case. Yes, the Robot Trading System also allows to fine tune the risk setting by using floating point values.
Now you might ask yourself, how one can find the best setting for the risk? Well, the answer is simple: We do backtests, again and again and again!
With an automated system it is almost effortless to do a few hundred or even thousand trades within a few minutes.
If your risk setting is too low, you will not make good profits. If your risk setting is too high, you might crash your whole account.
If you increase your risk setting carefully and your results improve – that is the right thing to do.
But if your equity suddenly is going downhill – that is the right time to decrease the risk.
It is not that hard to understand, but it is surprisingly very hard to do for humans.
We look for secret entries that never fail. We try to adjust the settings for each and every entry signal in the world – but we miss the most important and obvious thing.
If you can adjust your risk, you can improve your results.
If you are interested in risk adjustment, maybe you want to watch the other performance videos on RobotTradingSystem.com – or wherever you get your trading performance videos.
Download "EMA CROSSOVER ROBOT TRADING SYSTEM - DEMO VERSION - WORKS WITH AUDCAD DEMO ACCOUNTS ONLY" EMACrossoverDemo.zip – Downloaded 81 times – 72 KB