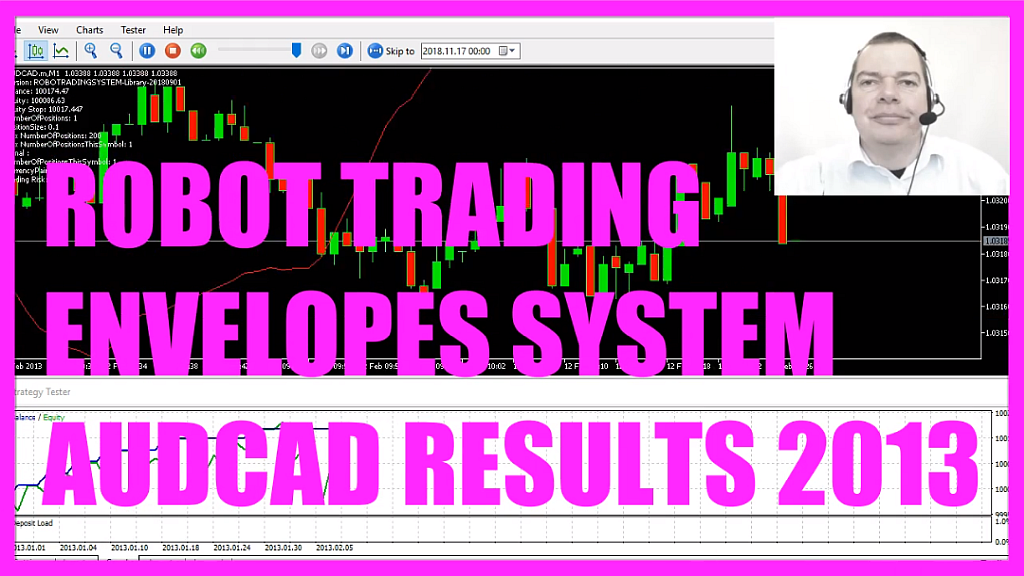 This is the Envelopes entry and we are trading the year 2013 for the Australian against the Canadian dollar. We use a risk setting of 8.
Automated trading has several advantages. One is the fact, that we can do backtests in a few minutes.
A human trader can't do a few hundred or even a few thousand trades in such a short span of time.
And the fact, that it only takes a few minutes doesn't mean that it isn't real trading experience.
Another fact is that an automated trading system can trade around the clock.
I doubt that any human trader could do that for 24 hours – even once – without serious mistakes.
We would get tired, bored and see things on the chart that aren't really there.
And there is no way, that we could do that for 5 days and nights in a row.
But even if you could consume enough energy drinks to do that, you still wouldn't be able to trade up to 22 currency pairs at the same time.
But any 10 year old computer can do that with MQL5.
That is why I consider automated trading to be the best invention since sliced bread.
If you are interested in good results with automated trading, maybe you want to watch the other performance videos on RobotTradingSystem.com – or wherever you get your trading performance videos.
Download "ENVELOPES ROBOT TRADING SYSTEM - DEMO VERSION - WORKS WITH AUDCAD DEMO ACCOUNTS ONLY" EnvelopesDemo.zip – Downloaded 357 times – 73 KB